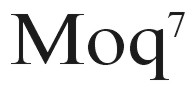 © 2008 Moq7, Inc. All rights reserved

$6.00 PreSALE PRICE: $1.42

A real banknote adapted to form a magnetic money clip.   It's a sticker that transforms an ordinary banknote into a minimialist magnetic money clip.

Features:

- Same size and feel as the cash it holds

- Use the money clip as currency when low on cash

- Use 1, 5, 10, 20, 50, and $100 denominations

- Euro banknotes too!

- Removable...  No currency is harmed.

- No extra pocket bulk.

SOLD: 716 pcs (updated 10/12/2009)

MOQ:
5,000 pcs (our MOQ not yours)
WHAT?
TERMS:  All money is refunded should we fail to presell 5,000 units by 12/31/2009.  We must presell 5,000 units in order to begin production.

INVESTMENT OPPORTUNITY: Now selling a 5% stake in the Banknote Magnetic Money Clip Intellectual Property (patent).  For more information email support-at-Moq7-dot-com.  

BULK ORDERS: email us at support-at-Moq7-dot-com.

MANUFACTURER: 

Accessories

Art

Bags and Purses

Bath and Beauty

Books

Candles

Ceramics and Pottery

Children

Clothing

Crochet

Dolls and Miniatures

Alt. Energy

Furniture

Geekery

Glass

Holidays

Housewares

Jewelry

Knitting

Music

Needlecraft

Paper Goods

Patterns

Pets

Plants and Edibles

Quilts

Supplies

Toys

Vintage

Weddings

Woodworking

Moq7 is a discount preseller of next generation goods.

Price increases as we near the MOQ